I remembered my architectural studies of Frank Lloyd Wright, (FLW) and his unusual life, when I read colleague and author PJ Sharon's post about the windy city, Chicago. The windy city, changed by the impact of FLW, and where Paula attended Romantic Times Booklovers convention, has a collection of FLW designs, the likes of which are unsurpassed.  (Look for Paula's convention link at the end If you want to read about her experience.)
Paula's post reminded me of FLW and his dedication to architecture. FLW,  King of architecture, influenced the architectural community with his daring, his technology, his attitude. There was an irresistible charm about him. Women adored him, men admired him, architects envied him. He spoke to women's groups telling them how to live, how to decorate, how to get out of the rut of loving dead things, things with no form. He managed to open up a new way for these women to see form. What is form? In order for form to resonate, make you feel good, it needs to have soul. Houses of the times were rigid boxes with no soul, until FLW opened them up. Victoriana had no soul, just lots and lots and lots of collections. His openness was a fresh new way to live. In his gentle way of talking to the women who listened with a passion, he said "Ornament is not about prettying the outside of something, but rather it should have balance, proportion, harmony." All of which creates  what FLW called the natural house. A house that blends with the land, a house that is designed with views to let the outside in.
Built in 1934 for Malcolm and Nancy WIlley, this Minneapolis home was restored in 2007 using cypress, plaster and regional brick.
Photo by Terrence Moore
It was abandoned for seven years, and totally disheveled, but here it is restored to its natural house form.
FLW never earned a degree. He left engineering school to apprentice in Chicago in the office of Adler and Sullivan. He learned on the job, then his opened his own practice. His belief in the natural, organic architecture, evolved from his exposure to Japanese architecture, his belief in simplicity, the nature of materials and influence of England's Arts and Crafts Movement. He integrated these ideas of his time as he would the parts of a house, composing a symphonic whole that transcended the parts.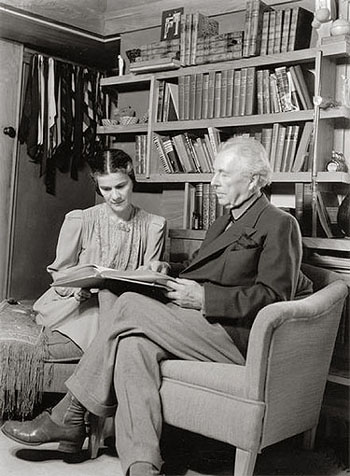 FLW not only did lots of buildings, but also did many wives. Frank at 69 with one of his many wives.
Here's a FLW gift shop link: http://www.shopwright.org/
Do you have a FLW house or wish you had one?
Paula's convention link:    http://secretsof7scribes.wordpress.com/2012/04/17/rt-recap.
"Inspiration is fifty percent dedication and fifty percent discipline. Together they equal progress."